AD Brutus Symmetry is a Photoshop Creative Cloud Panel (from CC to 2017+) that provides tools to work with -almost- realtime symmetry.
Brutus is Adictive! Awesome for Character design! Fantastic for Brainstorming!
Until Adobe makes Photoshop realtime symmetry possible this tools are the closer approach you could have. It basically uses Photoshop guides (vertical and horizontal) as Axis for the symmetry, but it's not limited to guides, it also works with selections and for fastest use we can assign shorcuts to the main functions (Instructions included).
Brutus is a great companion for your artist toolbox! Watch it in action…
Brutus also includes another fantastic technique to draw or paint with symmetry in Photoshop, in this case the symmetry is generated with mirrored smart layers that are set up for you with one click (I've created a tutorial for PS CS6 some years ago > Watch it here).
While working with Brutus you can use the last two buttons to save your active layer as a PNG or to save the whole merged file as PNG, no dialogues, no distraction… one click and you have a high quality screenshot of your artwork saved in a folder and including the date and hour with the name.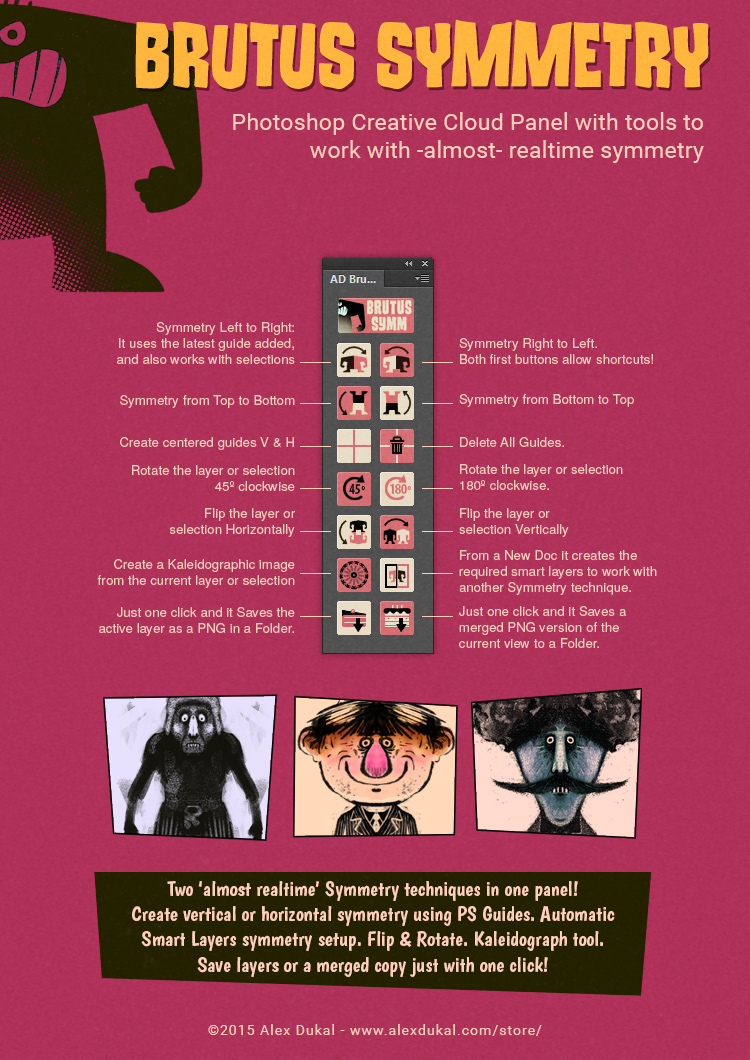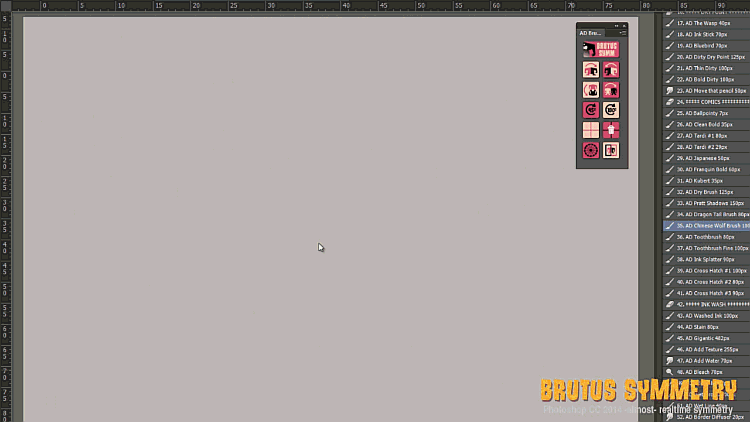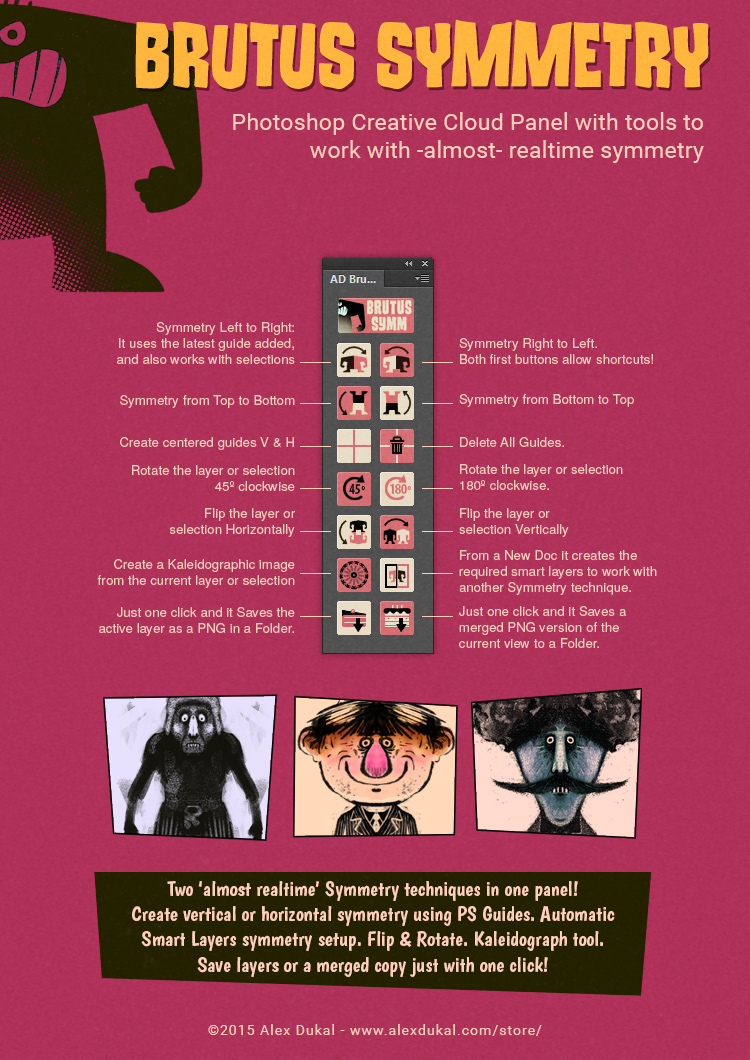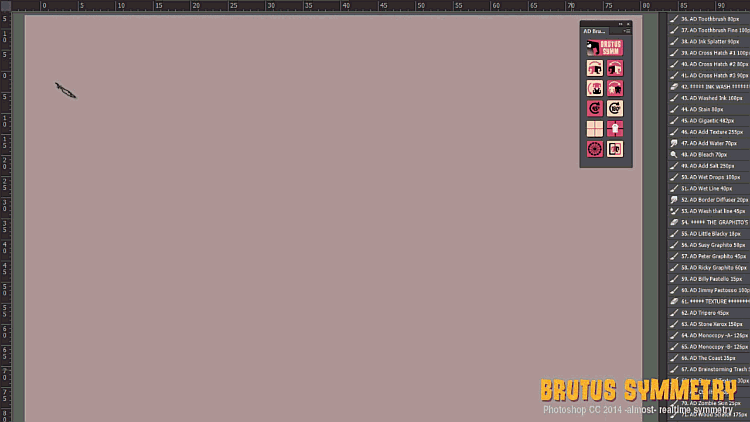 Requirements
It doesn't matter if you are on Mac or PC you just need a machine running Adobe Photoshop Creative Cloud (from CC to CC2017+).
The Panel was developed and intensively tested with Adobe Photoshop® Creative Cloud (All versions, from CC to CC 2017+)
Using Windows 7 and 10 with a Pc Intel Core I7 3770 @ 3.40Ghz + 8gb RAM + Nvidia GeForce GT 620 / Nvidia Geforce Gtx960 and using a Wacom Intuos 4 tablet, a Graphire 4 and a Cintiq Companion Hybrid, also tested in a Mac Book Pro with OS X Mountain Lion versión 10.8 with 4 and 16 GB RAM.
IMPORTANT: Please, check that your Photoshop is compatible with your OSX.
It seems that PS CC 2014 is NOT compatible with OSX lower than 10.8
Please, take a look to the Compatibility table here:
Photoshop Version compatibility with OSX

What the purchase includes?
The Brutus Symmetry .ZIP file (approx. 3,7 Mb.) includes:
the Panel for Photoshop Creative Cloud: ad.brutussymmetry.zxp (311 Kb.)
a User Manual / Help file (PDF – 2,9 Mb. aprox.)
a TXT file with installation instructions & license info for each installer. PLEASE, READ IT!
All future updates for this product are FREE with your purchase.
Many thanks to all the beta testers, specially to sergey kritskiy and Stéphane Baril for the awesome feedback!
And Thanks to Davide Barranca for all the help with the first installer.

UPDATE June 27, 2016 – Version 1.7.1: the animation loader was removed to make the launching time faster, minor internal updates to make full compatibility with PS CC 2015.5
For more info, please visit the Brutus Symmetry page: http://alexdukal.com/store/brutus/
NOTE: This product is distributed without any warranty, just the willingness to help whenever its possible and necessary. There are no refunds.