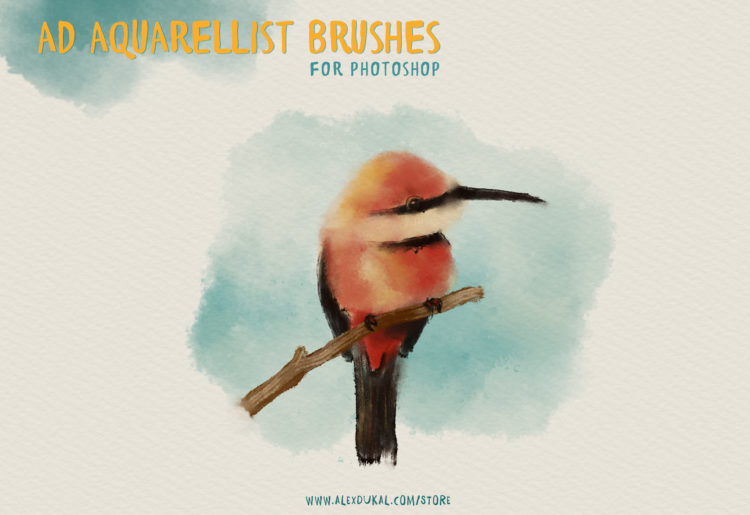 These are the fabulous Photoshop Watercolour Brushes I've created a bunch of years ago! Improved and expanded through time!
This pack actually includes more than 150 Brushes that realistically emulates Watercolours and Ink Washings without the need of weird and complicated tricks, just paint using the pen pressure and direction combining different brushes to obtain that natural wet effects!
The first impression, besides blowing your mind, could be overwhelming due to the quantity and variety of these high quality brushes (View the PDF Reference Sheet here), so… take your time to practice and find wich ones are your favorites, combine them, experiment, etc.
I'll be publishing some tutorials, tips and tricks, so stay tuned!
Some examples using ONLY The Aquarellist Brushes: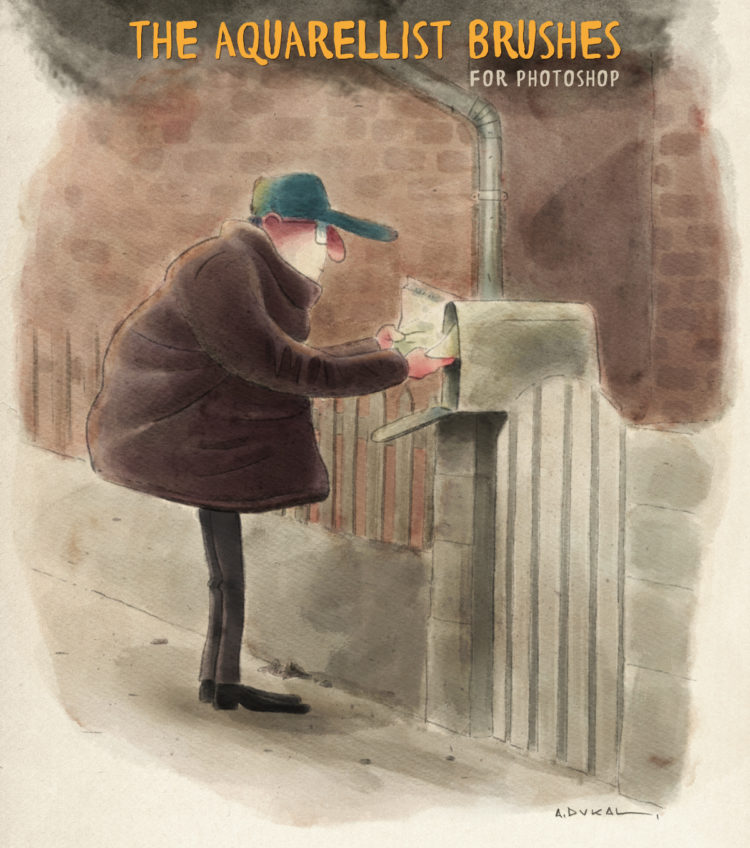 First update – July, 2015 (version 1.1):
Some major changes with this update: the splatter brushes (38 brushes) have been separated into an individual set that is included inside the ZIP file, also the new 11 'extra' brushes are contained in an individual set and there's more!… I've included two new extra sets of watercolours brushes (the 'Architect' set with 19 brushes and the 'Cul de sac' set with 9 brushes), the idea behind those small extra packs is to have a few brushes that work pretty well together.
These new sets are the perfect starting point to use The Aquarellist Brushes.
Watch these new extra packs in action:
And more examples created with the Aquarellist Brushes: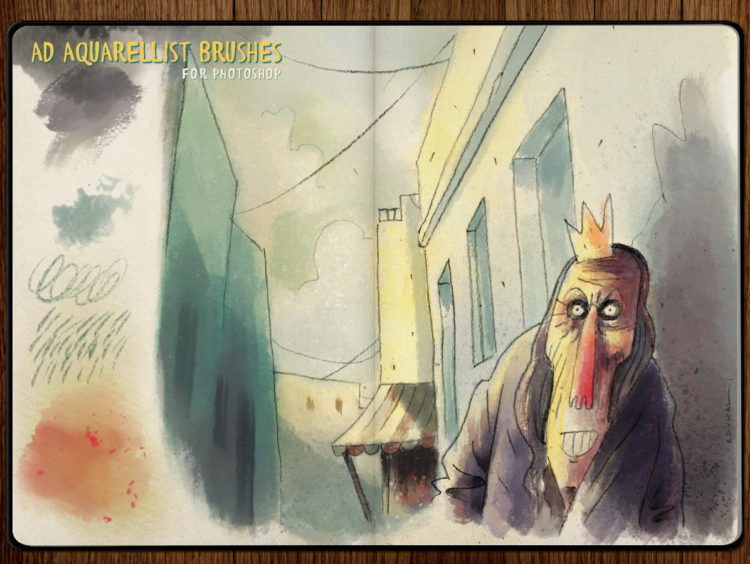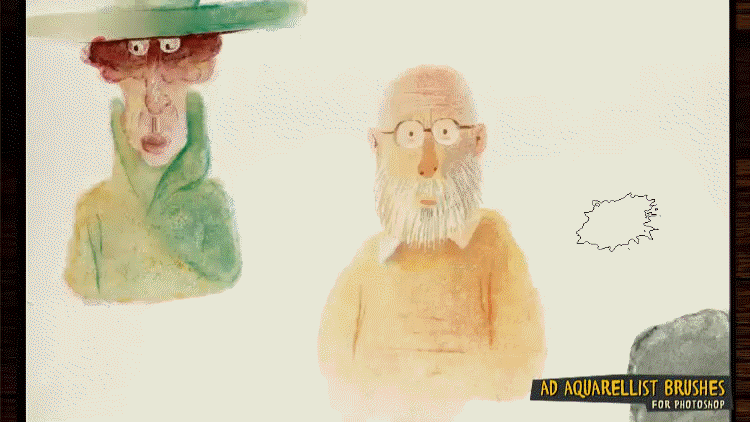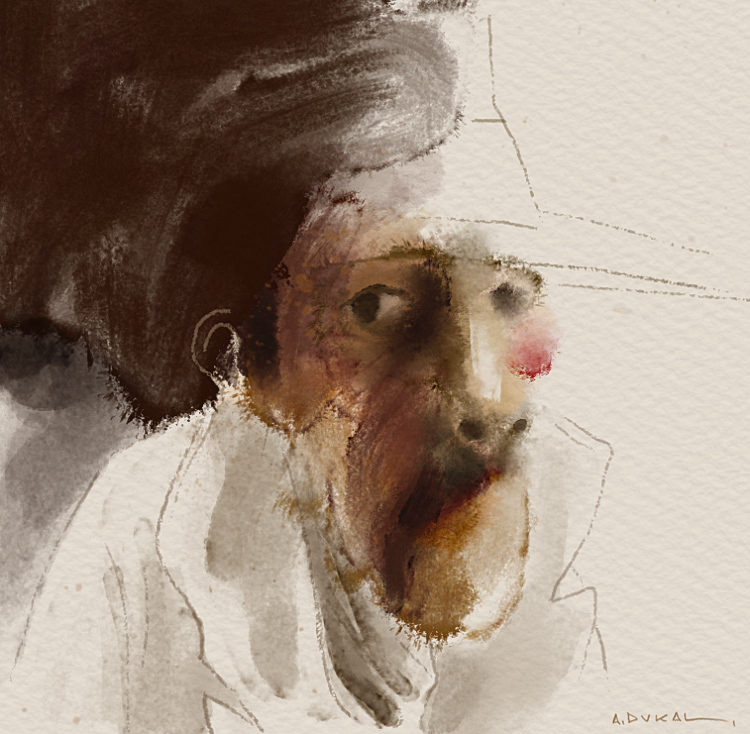 Requirements

Most of this brushes & presets were created in Photoshop CC 2014 using a Wacom Intuos 4 Tablet.
Tested also in Photoshop CS6 with a Wacom Graphire 4 and a Cintiq Companion Hybrid.
RECOMMENDED SETUP: Photoshop Creative Cloud (CC to CC 2015.5) plus a Wacom tablet.
MINIMUM REQUIREMENTS: Photoshop CS5 + Wacom tablet, but… with this setup do not expect to use the brushes in the exactly same way I created them. Photoshop CS6 is fine for this brushes.
Take note that the Wacom Graphire and Bamboo models has less pressure levels and the absence of some options (Eg.: there's no TILT option for brushes).
A few more videos with a live preview of the included brushes (these are from version 1.0):
The first quick test using -almost- all the included brushes in version 1.0:
What the purchase includes?

The Aquarellist Brushes ZIP file (78,4 Mb. – 167 Brushes) includes:
AD_Aquarellist-Brushes_v1.1.tpl (41,7 Mb.) This is the main file with 90 brushes.
AD_Aquarellist-Brushes_Update-June-2015.tpl (12,4 Mb.) The brand new 11 brushes.
AD_Aquarellist_Arquitect.tpl (5,89 Mb.) with 19 new brushes.
AD_Aquarellist_Cul-de-sac.tpl (9,95 Mb.) with 9 new brushes.
AD_Splatters.tpl (36,7 Mb.) The 38 Splatters.
Some Help images and the Reference Sheet (PDF)
A TXT file with the License of use for a Single User (Please, read it!)
This is a 'work in constant progress' so I'm constantly improving this tools and giving the buyers some FREE updates from time to time.

Importante: Los clientes en Argentina tienen la opción de realizar sus pagos en efectivo, utilizando Rapipago y/o Pago Fácil, luego de optar por Mercado Pago como método de pago. Verán el costo del producto en pesos (cambio oficial del día) antes de concretar la operación en Mercado Pago.