AD Artbox lite is the reduced and Free version of AD Artbox, a Photoshop CS6 and Creative Cloud Panel (CC, CC 2014, 2015 and 2015.5) with more than sixty high quality tools for illustrators. Designed for everyday work, Intuitive and easy to use!
Used at Disney Studios and ready for Retina Display!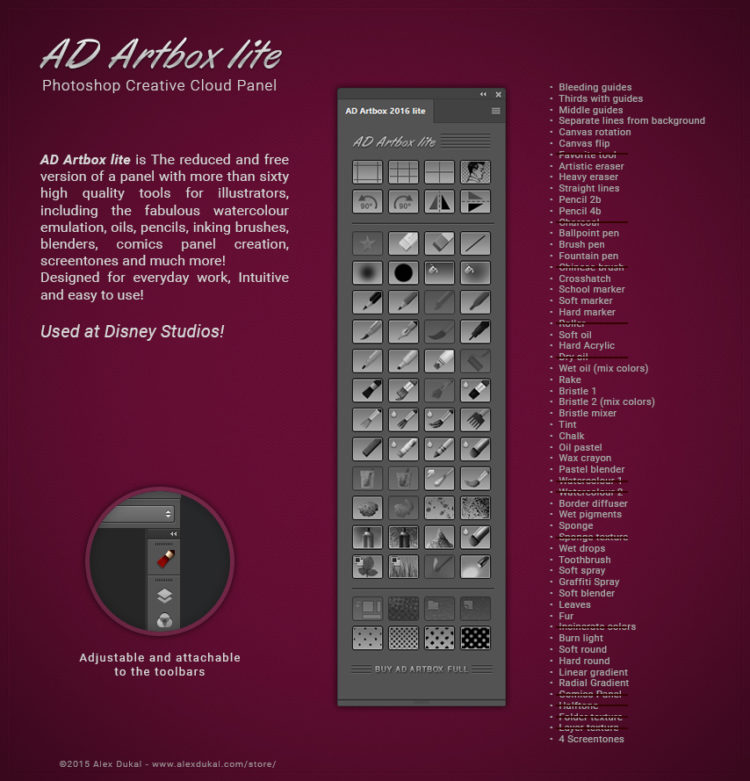 This is a quick preview of the Artbox brushes (Full version):



While I produce a new video demo you could watch this old 30 min. video demo to help you having an approximate idea about how AD Artbox works (accelerated version here: 30 min. in 2 min.):



Help and User Manual:
http://alexdukal.com/store/ad-artbox-help/

Requirements

The Panel was developed and intensively tested with:
Adobe Photoshop CS6, CC, CC2014, CC2015 and cc2015.5
Wacom tablets: Intuos 4, Graphire 4 and Cintiq Companion Hybrid.
Windows 10 with a Pc Intel Core I7 3770 @ 3.40Ghz + 8gb RAM + NVIDIA GeForce GTX 960
Windows 7 ultimate 64-bit SP1 with an Intel Core i5-2300 CPU @ 2.80Ghz, 4 GB RAM, Ati Radeon HD 5670
iMac (27-inch, late 2012) 3,4 Ghz Intel Core i7 with 16 Gb 1600Mhz DDR3 NVIDIA GeForce GTX 675MX 1024 Mb – OSX El Capitan version 10.11.3
MacBook Pro (Retina 13-Inch, 2015) 2.7 Ghz Intel Core i5 RAM 8 Gb 1867 Mhz DDR3 Intel Iris Graphics 6100 1536 Mb
Basically, to use AD Artbox you need a computer that running Photoshop without any trouble. To use it at it's best you need also a Wacom tablet or similar.
What the purchase includes?
the panel for Photoshop Creative Cloud (CC, 2014, 2015 & 2015.5): ad.artbox2016lite.zxp (35 Mb.)
the panel for Photoshop CS6: ad.artbox-1_Lite_PS-CS6.zxp (24,5 Mb.)
The User Manual (PDF) 5 Mb. aprox.
A TXT file with installation instructions & license info, PLEASE, READ IT!
Plus the required patterns, actions and tool presets
NOTE: This product is distributed without any warranty, just the willingness to help whenever its possible and necessary. There are no refunds.
I highly recommend to TRY AD Artbox lite before purchase the AD Artbox full version.


Importante: Los clientes en Argentina tienen la opción de realizar sus pagos en efectivo, utilizando Rapipago y/o Pago Fácil, luego de optar por Mercado Pago como método de pago. Verán el costo del producto en pesos (cambio oficial del día) antes de concretar la operación en Mercado Pago.